Ely | #1 Largest 718 with OSRS | Unique
elyrsps RSPS
About Ely:
We are the hottest up & coming RSPS out there today! With features that just blow the competition out of the water, it is no doubt we are the new standard. The gameplay & community itself you will experience in Ely is second-to-none. We have all you can ask for PLUS a complete & professional team of Developers, Graphics Designers, interactive Staff & more! With 100% uptime & a constantly growing player base you will love your time spent on Ely. Competitions, player-polled content being added daily; we are here to stay. What more could you ask for? Take a look at our media & features list to seal the deal..
Features list:
Most Advanced (4 full-time Developers providing top tier content & gameplay)
Content Packed (All 718 content + tons of the latest OSRS)
Fastest Growing (Among the most fastest growing new servers online)
Huge Wiki (see below for more information)
All 25 Skills (Enjoy true combat leveling & skilling including Construction & Dungeoneering) 
OSRS Content & Bosses (Recently released: Cerberus)
Instances (Start an instance at any Boss)
100% Skotizo, Kraken, Cerberus, Demonic Gorilla's (All drop & items)
Gear & Inventory Presets (save up to 10 different presets w/ option of custom levels)
Discord Integration (!drops NPCNAME !stats PLAYERNAME !players ONLINE & more)
Daily Updates (Pushing bi-weekly updates with bug fixes & new content)
Customizable Client settings (Tons of toggles such as, x10 hits, Player name, old/new looks, & much more)
10+ Minigames & Customs (Including Battle Royale, Zombie Waves & all the classics)
Perfected Content (A lot of our content is very similar to the original)
Grand Exchange (Auto-buys/sells & player based, depending on item)
World Events (Wildy Wyrm, Evil Tree & Shooting Stars)
Weekend Events (Double Minigame Rewards, double PvM Points & more)
Choose Your XP Rate (x10 Legends & x50 Default)
All Ironman Modes (IM/HCIM/UIM)
Over 150 Achievements (Interactive progress percentage & more)
Duo Slayer (Earn faster XP by doing Slayer with a partner)
Tons of Pets (Skilling & Boss pets)
Tons of Bosses (Including all GWD, Cerberus, Corporal Beast, Nex, QBD, KBD & more)
Safe Gambling (Flower Poker, dicing, hot & cold - server hosted betting)
Master Capes & more (Earn your Max Cape, Completionist Cape and/or 120 Capes)
Customizable Loot Beam (Never miss a valuable drop)
Banking (with tabs, searching, inserting & swapping)
Rewarding Vote System (Trade them for GP, redeem them for BXP or spend them in-shop)
Loyalty Titles (Tons & tons of titles to aim for)
Clan System (100% Clan system with ranks, etc)
Clue Scrolls (Fully custom with Wiki guides & tips)
Quests (Fully custom Quests made by the community)
Universal Donor Benefits (Apply your Donor status & benefit to ALL your alt accounts)
Bank Placeholders & TONS MORE!
One feature in particular requires more information; our huge Wiki! This Wiki is not just your typical nearly-empty one. Our Wiki offers detailed information about nearly anything you could think of in-game. From NPC's, to items, Clue scrolls, guides & more!
You can search our "Bestiary" database for information about every single NPC that exists in-game. Such as the following: combat level, hitpoints, every single attack & defence attribute, attack speed, respawn delay, attack style, aggressiveness & it's max hit!
You can search our "Items & Equipment" database for information about every single item in-game! It will give you information such as the following: the price, tradability, weight, attack & defence stats, bonuses & more!
This is not all. You can search for all items currently being bought & sold on the Grand Exchange which also offers price charts & graphs both present & past! This Wiki even offers more than that. Anything you can dream up, it is there. Looking forward to seeing you in-game!

Media:
Click here to view the Ely RSPS Server Media (Mega Thread)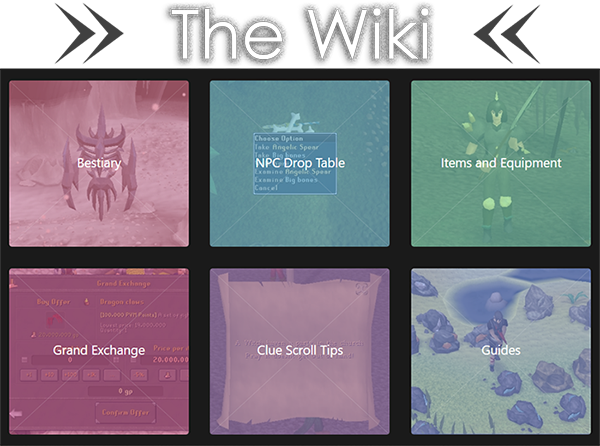 Copyright © 2019 MoparScape. All rights reserved.